Uppertone Quad Gym
Start Page Content.
MSRP
$3675.00
Function
Assists people with limited grip strength in conditioning their upper body and upper extremities.
Features
No grip required to operate. Adjustable resistance. Adjustable sitting height. Two independently adjustable weight stacks.
Options
Additional weights, backrest for manual wheelchair, rickshaw / tricep handle, and adjustable rowing handles.
Considerations
Footprint dimensions 54 x 57 inches.
Vendors
---
More in this product category: Exercise aid / equipment - strength training
Wheelchair Transfer Exerciser
Vendor: Patterson Medical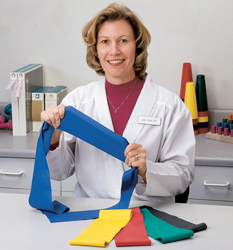 Thera-Band, Gold, Level 7, 50 yd
Vendor: North Coast Medical Inc.
Rickshaw (aka PowerFit) Rehab Exerciser 3000
Vendor: Columbia Medical Manufacturing Corporation