Laptop Laidback
Start Page Content.
MSRP
$89.00
Short Description
Portable laptop bed table
Function
Designed for the reclined use of laptop computers.
Features
Light weight ( under 3 lbs ), adjusts to users dimensions and computer brand to place keyboard for touch typing with elbows supported on bed, quick assembly, fits carry-on luggage or knap sack, extremely tough
Considerations
- for individuals under 60" waist size

Vendors
---
More in this product category: Table - bed tray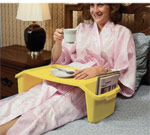 Bed Tray
Vendor: Life Solutions Plus, Inc.
Mayo Stand
Vendor: Maxi-Aids
LapDawg X4 Laptop Bed Tray
Vendor: LapDawg