ThingSling
Start Page Content.
MSRP
$12.95
Short Description
ThingSling is an easy grip for smartphones that works with all phones and all hands. The elastic strap holds your phone firmly to one finger for a secure grip and better control.
Function
The ThingSling attaches easily to the back of your phone. Slip one or two fingers under the elastic strap and you won't drop your phone again. This makes it easier to use smartphones with just one hand.
Features
ThingSling is easy to attach and use. Its high quality adhesive will hold to just about every phone and every case. ThingSling's comfortable grip will allow you to text faster and talk longer with less stress on your hand.
Options
Available in black or white.
Vendors
---
More in this product category: Gripping aid
Utensil Cuff
Vendor: Flaghouse Inc.
Universal Utensil Cuff
Vendor: Sportaid.com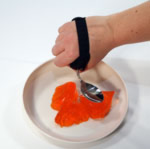 Goodie Strap
Vendor: Life Solutions Plus, Inc.