SideStix Boundless Pro Forearm Crutch
Start Page Content.
MSRP
$897.00 CAD
Short Description
The SideStix Boundless Pro is both our most advanced and most popular forearm crutch. Featuring our unique damper shock system which reduces fatigue and stress on your joints and our lighter weight carbon fibre lowers the Boundless Pro will let you go farther with less effort then any other crutch on earth.
Features
Features include:
-Upper assembly manufactured from 6061 aluminum alloy.
-Featuring lighter weight carbon fibre lower tubes.
-Damper shock absorber.
-Ergonomic & light weight.
-7/8 tubing enables user replaceable grips.
-Free Spenco neoprene grip covers included.
-Leather cuff pads with comfortable padding.
-Includes rubber tip adapters & articulating Tornado rubber tips by Fetterman.
-815g (small) – 856g (large), See Sizing Chart
Options
Side, Front, and 3/4 cuff available.
Considerations
Works with SideStix tip accessories, including snowshoes, sandshoes & hiking tips. The SideStix tool and an Allen-key are included with your purchase.
Vendors
---
More in this product category: Walking aid - crutches
Quickfit Adjustable Aluminum Economy Crutches
Vendor: Patterson Medical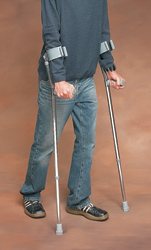 Norco Forearm Crutches, Adult
Vendor: North Coast Medical Inc.
SideStix Discovery Pro Forearm Crutch
Vendor: SideStix Ventures Inc.