Bottom Buddy
Start Page Content.
Short Description
The Bottom Buddy is a handy toilet tissue aid that extends the reach of persons who have difficulty using the bathroom. The soft, flexible head of this bathroom aid grips any tissue or pre-moistened wipe securely and releases the paper with the push of the button on the easy to use handle. Comfortable and effective, this toilet aid is a simple solution to achieving personal cleanliness. Convenient for travel. Storage bag included. This personal hygiene toiletry aid measures 11" long and weighs 4 ounces. Use with The Bidet Spray for added personal hygiene.
Vendors
---
More in this product category: Toileting - aid
Flip - N - Flush Potty Seat
Vendor: integrations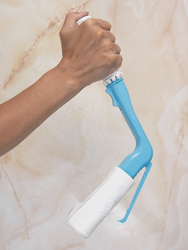 Self Wipe
Vendors:
Maxi-Aids

Maddak Inc.

North Coast Medical Inc.

Potti Pet Elephant
Vendor: integrations