Carex Universal Toilet Paper Holder
Start Page Content.
Short Description
The Carex Universal Toilet Paper Holder fits all standard tube frame commodes, avoiding the necessity of wall mounting and possible damage. This handy device conveniently ataches with one hand, no tools required. It also allows for the easy changing of toilet paper rolls and convenient access while using the commode. If bumped, the toilet paper holer will swing away to reduce the risk of injury or breakage. The diminsions of the toilet paper holder are 2 3/8" x 2 1/2" x 6 9/16".
Vendors
---
More in this product category: Toileting - aid
Padded Seat Reducer Ring
Vendor: Achievement Products
Traditional Toilet Surround
Vendor: Coopers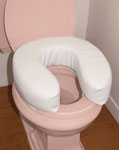 Carex Softie Toilet Seat Cushion
Vendor: Life Solutions Plus, Inc.