1.5 " X 6" W/ 2X Power Bar Magnifier (All Yellow)
Start Page Content.
Short Description
When trying to decipher very small print, you can put this wide 1.5" solid high quality acrylic bar magnifier on the page and all of a suddent, the print is visible. We have had the bar tinted yellow because it causes the black letters to stand out better.
Vendors
---
More in this product category: Magnifier - bar / page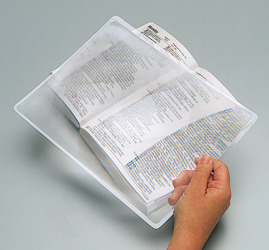 Full Page Magnifier
Vendor: North Coast Medical Inc.
LED Illuminated 1.8X Page Magnifier
Vendor: Independent Living Aids Inc. (ILA)
Magnifier 8" Bar
Vendor: The Lighthouse Store