3M Notebook Riser, Black
Start Page Content.
Short Description
Raises your notebook to an ergonomically correct height and frees up desk space. Height adjusts from 4" to 6" (10 to 15cm) in 1/2" (13mm) increments. Compatible with docking stations. Supports up to 15 lbs (5.9kg). Cable management feature helps keep your cables under control. Holes in platform help keep notebook ventilated. Specifications Dimensions: 13.9" Height x 9.1" Width x 14.1" Depth (35 x 23 x 36cm). Color: Black
Vendors
---
More in this product category: Monitor stand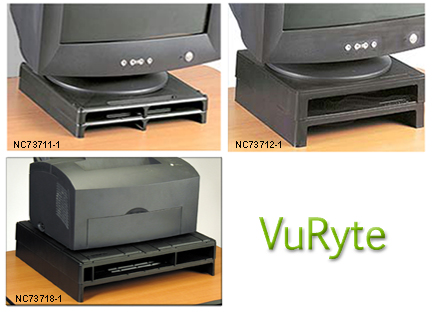 VuRyser2 Monitor Stand, Black 2in
Vendor: North Coast Medical Inc.
Monitor Lifts
Vendor: Kare Products
DoubleArm Monitor Arm
Vendor: Infogrip, Inc.