Guardian Hand Held Shower Dlx
Start Page Content.
Short Description
For a soothing shower or invigorating massage whether standing or safely seated.The Guardian® Hand Held Shower features an ergonomically designed handle with a textured surface that provides a comfortable, nonslip grip. Massage controls located at your fingertips give you the choice of standard or pulsating sprays for a stimulating massage. Also featured is an extra long hose measuring 86" (2.2m), a mounting bracket for fixed shower head use as well as hand-held operation, and a water saving diverter valve that uses less than 2.5 gallons (9.5liters) per minute. Weighs 1 lb. (454g). Fits all standard 1/2" (13mm) diameter shower arms.
Vendors
---
More in this product category: Bathing aid
Long-Handled Sponge
Vendor: Performance Health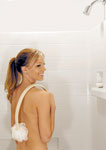 Reach N Scrub Bendable Bath Brush
Vendor: Life Solutions Plus, Inc.
Long Handled Sponge
Vendor: Aids For Arthritis Inc.