26 x 2.1" Off Road Wheelchair Wheels
Start Page Content.
Short Description
The all terrain wheelchair wheel was developed for the outdoor sports enthusiasts and added traction for everyday use. The all terrain wheelchair wheel comes standard with a Sun black double wall rim, black knobby tire, and six tab Vinyl or Aluminum handrim.
Vendors
---
More in this product category: Wheelchair - component
3" x 1" Aluminum Firm Roll Wheelchair Casters
Vendor: Sportaid.com
Sun Components Fusion 16 Wheelchair Wheels 24"/25"/26" x 1"
Vendor: Sportaid.com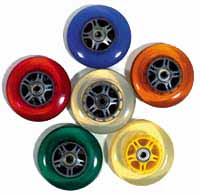 4" x 1" Wheelchair Poly Caster, 6 Colors Available
Vendor: Sportaid.com