The Pencil Grip
Start Page Content.
Short Description
Soft pillow pencil grip fits children or adults and left of right handes writers. Place thumb on the "R" or "L" and other fingers fall naturally onto a cushioned tripod grasp. The larger size of this grip seems to work especially well with small hands, helping to maintain thumb abduction and an open webspace.
Vendors
---
More in this product category: Writing aid
Handi - Writer
Vendor: Achievement Products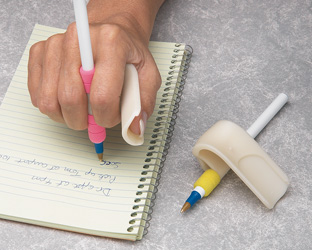 Ergowriter
Vendor: North Coast Medical Inc.
Start Write A To Z
Vendor: Achievement Products