12in White Vinyl Coated Grab Bar
Start Page Content.
Short Description
Invacare grab bars are designed to give added security in and around the bathroom and provide years of trouble-free service. Weight capacity 250 lbs- Soft-to-the touch, Weight capacity 250 lbs - Sturdy all-steel construction - 3.75in wall clearance - 1in OD gripping area - Lifetime limited warranty - Weight capacity 250 lbs
Vendors
---
More in this product category: Grab bars
Devon Support Rail
Vendor: Patterson Medical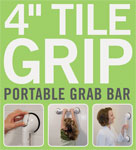 Telescoping Portable Grab Bar 4" Tile Grip
Vendor: Life Solutions Plus, Inc.
Knurled Grab Bar
Vendor: Maxi-Aids