Weighted Handwriting Glove
Start Page Content.
MSRP
$21.95-$23.95
Function
Allows for more control along with proprioceptive feedback when writing.
Features
Weightedglove. For right or left hand use.
Options
XSmall (2.25 in. W), small (2.5 in. W), medium (2.75 in. W), and large (3 in. W).
Vendors
---
More in this product category: Writing aid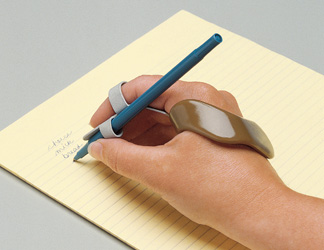 Wanchik's Writer #2, Large Left
Vendor: North Coast Medical Inc.
Fold Over Writing Guide Assortment Consists of 4 Items
Vendor: Independent Living Aids Inc. (ILA)
The Pencil Grip
Vendor: Beacon-Ridge LLC