45° Total Arm Elevator
Start Page Content.
MSRP
$51.50 - $82.80
Function
Supports arm and or hand after injury or surgery.
Features
Contoured cavity secures either arm in an elevated position. Useful for edema control, for abduction positioning for burn clients, or post mastectomy. Latex free.
Options
Available in two sizes: small and large.
Considerations
Small size fits most women and the large size fits most men.
Vendors
---
More in this product category: Support - upper extremity
Shoulder Brace, Size Medium
Vendor: Maxi-Aids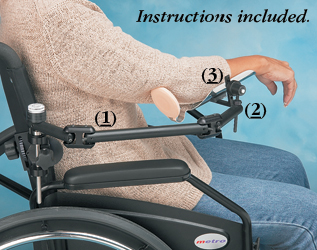 J/R 24 in MultiLink Large
Vendor: North Coast Medical Inc.
Tennis Elbow Suport
Vendor: Maxi-Aids