Posey Door Guard / Do Not Enter Banner
Start Page Content.
MSRP
Contact vendor
Function
Provides a visual reminder to residents not to exit or enter a doorway.
Features
Banner attaches with adhesive hook and loop strips in seconds; removes easily in case of an emergency. Fits door widths up to 47.5 inches. Compatible with the Posey KeepSafe Essential Alarm, which is included.
Requirements
4 AAA batteries (included).
Vendors
---
More in this product category: Door hardware
Magnetic Astragal
Vendor: Reese Enterprises, Inc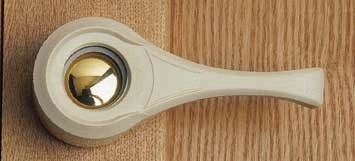 Leveron Door Knob Turner, Beige
Vendor: North Coast Medical Inc.
Expansion Door Hinge
Vendor: Maxi-Aids